15 Jun

'Diversification is the code word' – Grafisch Nieuws (Jun '21)

Daddy Kate, the Claes family's graphics group in Sint-Pieters-Leeuw in Flemish Brabant, is pushing the accelerator even in the midst of a corona crisis. The company is making acquisitions and investing heavily. "To grow in a shrinking market, you have to keep looking at acquisitions," says Thijs Claes, the family CEO.
The machinery at Daddy Kate in Sint-Pieters-Leeuw is once again running at full capacity. The printing company produces mainly for retailers, advertising agencies, cultural houses, and so on. "Every crisis offers opportunities," says Thijs Claes (37), the graphics group's CEO. The family business did not stand still during the corona crisis. All in all, Claes looks back on corona year 2020 with satisfaction. "April was our worst month, with sales down 50 per cent compared to April 2019. On a year-on-year basis, we managed to limit the damage to a five per cent drop in turnover. That is not bad considering the circumstances. Without the additional sales from our acquisitions in France, we would have collected a 12 per cent contraction." The acquisitions came at the right time. Thanks to temporary unemployment, costs were under control and 2020 could end with a profit. Twenty per cent of profits will be shared equally among staff in the form of a wage bonus. Consolidated turnover for 2020 is €23 million. The group has 125 employees.
Domestic and foreign takeovers
Since July 2019, Daddy Kate has been active in northern France with the acquisition of Becquart Impressions in Tourcoing. Two more French acquisitions followed in 2020: Imprimerie Dumoulin in Libercourt and Carte Blanche in Neuville-en-Ferrain. "They are three successful acquisitions. They will be merged into one company Daddy Kate France in Libercourt in the autumn," states Thijs Claes. The top executive expects the French branch to turn a turnover of €7-8m. The team in Libercourt has 25 employees. Offset printing is done in Sint-Pieters-Leeuw, digital printing and finishing in northern France. Twice a day there is transport between the two locations. "It is interesting to do the finishing in Libercourt because we don't have the space here in Sint-Pieters-Leeuw. Printing in offset is no problem, today's machines are very fast and can handle many different orders. But you also have to get everything processed after printing. You need more finishing machines and people to follow the output of the printing presses. We cannot expand more here and it is also more difficult to find people here. In France, we have the people and the space, we just have the limited additional cost of transport. That reinforced our decision to set up a branch in France to get a foothold there. Thanks to our digital printing machines on site, we can also be short on time there," Claes points out.
According to Thijs Claes, the situation with our southern neighbours is similar to what is going on with small printing companies in Belgium. "There are many printing companies that had a raison d'être 10 or 15 years ago but have been unable to invest since the 2008 crisis. They are stuck with outdated machinery and they are looking for a solution. With our modern machinery, we make a difference in this market anyway. Our offer is much wider and our prices are more competitive, then you know there are opportunities." Daddy Kate France is already almost a third of the consolidated group turnover. "The print runs are also bigger, which makes it really interesting. Our French customers are also excited about the acquisitions. They get a wider range and better service at more competitive prices than before," says Claes.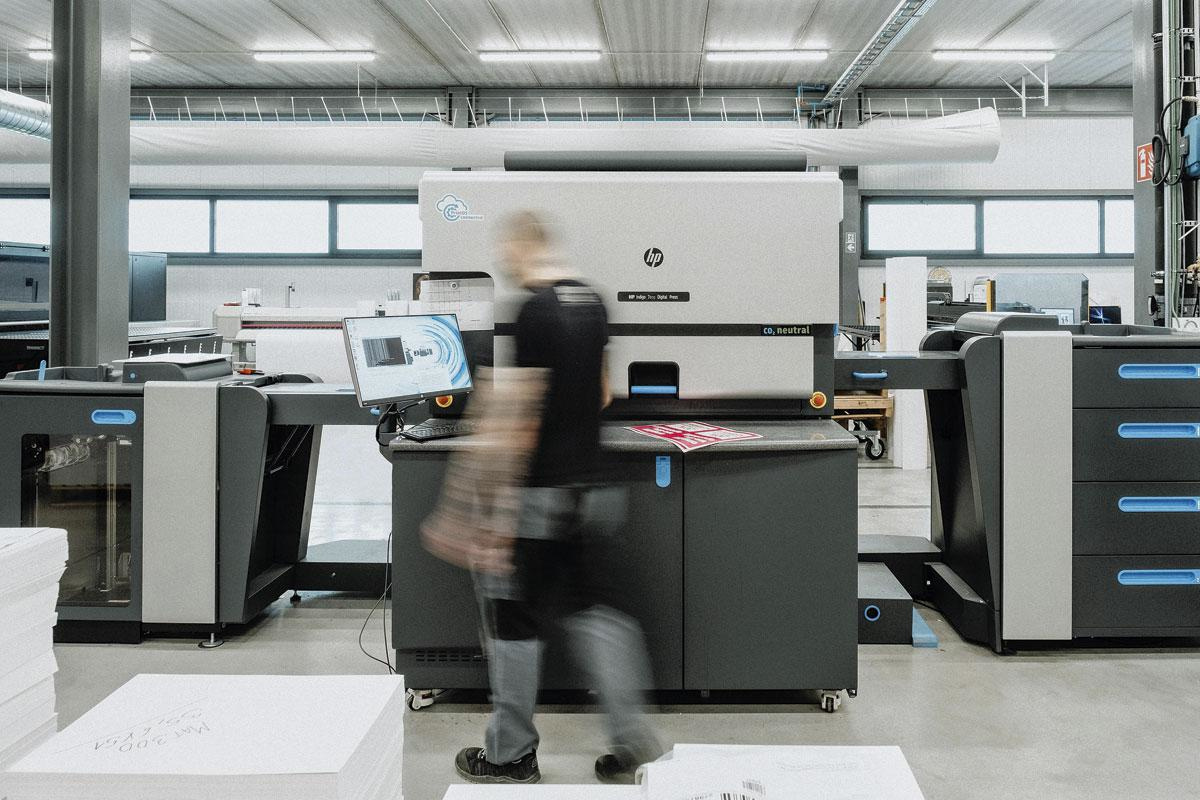 Domestically, Thijs Claes also continues to look for acquisitions. "To grow in a shrinking market, you have to keep looking at acquisitions," he says. Daddy Kate made eight acquisitions in the last 10 years. Claes reckons with an annual, "natural" contraction of three to five per cent in the commercial printing market. "We have to keep taking action anyway to offset that shrinkage. We don't necessarily have to get bigger. Today there are 100 of us in Belgium, we don't want to go to 200, that's not our ambition." In April 2021, Daddy Kate took over Overijse-based printer DV3. DV3 was the company of Erik De Coster, Tanja De Page and Joris Vancoetsem. The printing house was founded in 1967 by Felix De Coster, Erik's father, who took over the business in 1992. Joris Vancoetsem joined the company in 2001. "DV3 specialises in high-end printing, it employs 15 people. The branch in Overijse will be closed at the end of September and most people will get the chance to work in Sint-Pieters-Leeuw. With this takeover, we expect to realise an additional turnover of two million euros on an annual basis," says Thijs Claes.
Investing in diversification
Daddy Kate's investment rate continues to level off. This year, the company is investing some four million euros in new machinery. An HP Indigo 7eco digital press was installed at the end of last year. This spring, it made way for a new Heidelberg eight-colour offset press (XL106-8) and an Agfa Tauro hybrid flatbed printer. The Agfa Anapurna moved to Libercourt. "Since the summer of 2018, we have already invested around seven million euros," Thijs Claes knows. The machines are becoming increasingly efficient. "On the eight-colour press, we can produce 20 per cent more than with the press that was there, which was 10 years old. That means extra work with the same number of people. Turnover grows without costs growing with it. The same applies to the Tauro printer, which is four times faster than the Anapurna," Claes experiences. Investment creates leverage. "Investing in efficiency improves your competitive position, your personnel cost per unit of output goes down. It is also a trade-off, you need the specific machine to bring in the right printing, although it is risky."
Daddy Kate is committed to diversification and operates in offset (60 per cent of sales), digital printing (30 per cent) and large format printing (10 per cent). "Three years ago, the ratio was 90/10/0. In the future, it will evolve to 50/30/20. I do expect offset to remain the most important department in the next five years. We have thought carefully about our strategy and diversification is the code word. Offering different technologies under one roof is our strength. We are a strong player in offset with our three presses, we have become one of the largest digital printers in the country. For our digital printing, we work in two or three shifts. The original idea was to migrate part of the offset volume to the digital machinery, but we don't get around to that because there is so much digital printing going on. We are strong in personalised printing," Claes says. The diversification strategy seems logical but there are also pitfalls says Thijs Claes. "The quality level has to be good in all areas, our name is attached to all our activities. The whole organisation has to be there, otherwise you put things at risk that you don't want to put at risk".
Thijs Claes wants to invest more in digital presses but the space is lacking at the site in Sint-Pieters-Leeuw. Daddy Kate moved to its current location in 2009, another thousand square metres were added to the car park in 2018. "This site is bursting at the seams. Solving that lack of space is one of our biggest challenges today. We are studying different avenues. We have to solve this or our diversification strategy will be compromised. We can grow to a turnover of 30 million euros next year," says Thijs Claes. The family boss sees digital printing as a segment where the company can offer a lot of added value. "It's all about innovation and IT. We know how to programme an API ( Application Programming Interface, nvdr.) between our systems and those of the customer. It's about more than just printing. The before-and-after process is also part of what we offer. This involves data management, automation and logistics. For a European retail customer, we deliver our printed material to three thousand points of sale in Europe. The orders, deliveries and invoicing run via our IT platform. You only get something like that done with strong IT."
Independent family business
Another project the Claes family is working on is the family anchoring of the graphics group. "We are a company that thinks in the long term," stresses Thijs Claes. "We want to still exist as an independent family business within a hundred years. You may always have to sell because of certain circumstances, but our ambition is never to have to do that. I think it's important that we grow stronger every year." Daddy Kate is owned by Thijs Claes and his sisters Sandra and Heidi, the second generation. "We are young, we are not going to sell. We are already working on the third generation, which gives our people a lot of peace of mind," Claes states. The family shareholders are working on a foundation so that shareholders become certificate holders. "Certificate holders are entitled to dividends but they have no decision-making rights," Thijs Claes points out. A foundation could be an answer to solve the typical problems of the third generation. "In the third generation, you have big age differences. There is more fragmentation, there are almost eight of them today, the oldest is 16, the youngest will be born in a few weeks. At some point, some shareholders want to sell while the others don't have the financial resources to buy over shares, for example. Then the company has to be sold as a whole and that is where many family businesses break down. We want to protect the family but also the company from that. The foundation and the company are one and indivisible," Claes concludes.